How to Build a Home Gym Without Breaking the Bank! 
In today's busy world, finding time to prioritize our physical and mental health can be challenging. Gym memberships and fitness classes can also come with a hefty price tag, discouraging many from embarking on their self-care journey.
But don't worry, we've got you covered! There are plenty of affordable ways to exercise from the comfort of your own home, and Mobee is here to help you get started!
Step 1: Find Your Perfect Workout
Before you focus on creating your home gym, find exercises that bring you joy and make you excited to get moving. Whether you prefer strength training, cardio, or something less traditional, there are countless online resources to help you find the perfect workout. It's all about personalizing your fitness plan to keep you motivated and committed for the long run!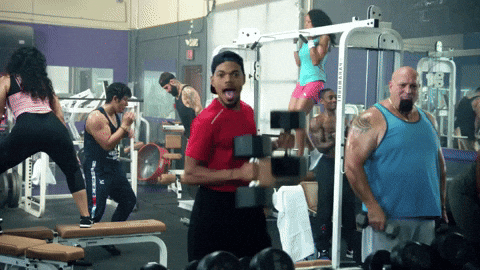 Step 2: Create A Dedicated Space
No matter how much space you have, you can still make it work for your home workouts. Whether it's a spare bedroom or a small corner in your living room, find a location where you can safely exercise without obstacles. And don't forget to consider good airflow for added comfort!
Additionally, consider investing in space-saving storage solutions to keep your equipment organized. We love this wall mount for storing smaller equipment—and at $12.99 it won't break the bank!
Step 3: Equip Yourself for Success
Now it's time to gather the essentials for your home gym. Start with cheap must-haves such as a yoga mat, stretching bands, and hand weights. You can find these items online or in-store at affordable prices. And remember, there are always second-hand options available on platforms like Facebook Marketplace for even better deals—or sometimes even free!
Let's dive into our top picks for some inspiration:
If you're looking to take your home workouts to the next level, we've found some amazing deals for you. From ellipticals and treadmills to exercise bikes and more, there's something for everyone on a budget. And don't forget to keep an eye out for coupons!
Here are a few deals we found on Amazon for under $100:
Start Building Your Dream Home Gym Today!
So there you have it, folks! Building your own home gym doesn't have to be a wallet-draining adventure. With a little creativity and resourcefulness, you're well on your way to creating a fitness oasis right in your living room.
Remember, it's not about the glitzy, high-end equipment, but choosing the right tools that suit your fitness goals.
So, dust off that unused space, get those bargain hunting skills in gear, and start your journey to a fitter, healthier you without breaking the bank. Happy training!
For even more savings on your self-care journey, download the Mobee app today!