Managing your personal finances can seem like a daunting task, especially if you're self-employed or trying to get back on track with your credit score (or even just your checking account). Luckily, there are plenty of resources and budgeting software available that will help you keep an eye on your expenses and savings, and help you plan for a more secure financial future. Here are a few financial management and budgeting apps that will help you feel a bit more confident about your finances.
Mint
Mint is an extremely popular app that offers easy budget tracking tools and a highly easy-to-use interface. Per their website, Mint is free and easy to set up, and features the ability to unify all your accounts and spending in one simple app so you can manage your finances on-the-go. Mint offers customized tips to help you save and invest money, automatic updates from your bank, and all-in-one tracking to help keep you sane. Forbes recommends Mint for those who are new to finance and it's great for those who want to keep an eye on what's moving in and out of their accounts without constantly checking their bank balance or reading through their credit card statement.
Mint also has tools to help you monitor and improve your credit score, making it a popular option among those who really want to boost their financial health.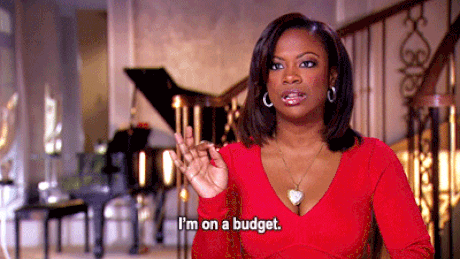 EveryDollar
EveryDollar is a budgeting app that helps you achieve zero-based budgeting, i.e. not spending more than you're bringing in on a monthly basis. EveryDollar will allow you to enter a transaction every time you spend money and will help you plan for large purchases. There's also a Plus version (for $129.99 annually) that will allow you to connect your account to your bank so you can automatically track your spending. EveryDollar is great if you're looking to find a way to get your spending under control, and they claim making a budget will only take you ten minutes, so there's no excuse not to get started. If you're already in the habit of keeping yourself aware of your spending in real-time, EveryDollar might be the move for you.
Albert
Apart from being rather adorably named, Albert is a great tool if you want to make sure that you're saving money each month. Albert will calculate the amount of money you should and can reasonably save each month and store it in an Albert savings account. It lets you set financial goals based on your personal goals and save for specific things. If you have a trip you want to budget for and want to be fairly hands-free with keeping an eye on your accounts and how much money you're saving, Albert might be a perfect solution for you.
YNAB
This is a great tool for people who like categories … and spreadsheets. YNAB, or You Need a Budget, is available on tablet, phone, and Mac and PC and will help you categorize your spending and income into specific spending areas, such as food, utilities, etc. They have a paywall, but they do offer a free 34-day trial so you can try your hand at managing your personal finances. YNAB is pitched as software to help you "break the paycheck-to-paycheck cycle" and help you ensure that you're paying bills on time and saving for the goals you want to achieve. While it's not free like some of the other apps listed, YNAB is extremely helpful in terms of having a place to organize your finances, and gives you a good look at the big picture of your income and spending.
Goodbudget
If you ever admired a relative whose financial organization system entailed separating money into different envelopes, this might be the finance app for you. Goodbudget uses the envelope system and separates your spending and what you allot for your budget into virtual envelopes, allowing you to remove money as you choose. It's a nice way to translate the organization happening in your head into a visual format, although the downside is that Goodbudget won't sync up with your bank accounts, so you'll have to update the app as you make payments and spend money. It's most practical for those who see themselves sticking to updating a budget plan and don't want to spend the time making their own unique spreadsheet.
Budgeting can seem like an insurmountable hurdle without tools to properly manage it, but luckily there are plenty of app options available depending on what tools you know work best to keep you accountable. Try out of a few of the free ones and see what sticks. You might surprise yourself with how financially savvy you become.