5 DIY Backyard Games to Make This Summer
Summer is a perfect time for maximizing your time outside, but sometimes it can be hard to find things to do in the backyard every day, especially if you have kids that are looking for new experiences.
Summer games are a great way to do that, and it's easy to find games that are cheap or easy to make on your own that are perfect for outdoor time. From classics like Tic Tac Toe to new favorites like Bananagrams, there are plenty of ways to convert your indoor favorites into summer hobbies.
Before you get started with your outdoor games, remember to clear the part of your yard you plan to use of sticks or other debris–there's nothing worse than stepping on a stick when you're trying to accomplish a tricky move in yard-Twister. Also keep in mind that if anyone in your household has seasonal allergies, playing on grass or among plants might present problems.
All that said, let's get into what DIY outdoor games are perfect for your summer itinerary.
DIY Cornhole
Cornhole (as it's known in the Midwest) or bean bag toss is a perfect summer game that's incredibly easy to build yourself. All you need are some wooden boards, some smaller wooden pieces to prop the board up, and bean bags. To assemble, you'll simply create a hole in each wooden board and then create small legs to prop up the side of the board that's closest to the hole. Check out this step-by-step guide to creating your own cornhole board from Home Depot.
If you want to be extra crafty and really create something special you'll use for a long time, you could even create your own bean bags. Check out this guide to creating bean bags and select colors and patterns you'll love so you can play all future lawn games in style. Pro-tip: writing the instructions on the back of any game boards or game equipment you build yourself can be extremely helpful both for you and for anyone that decides to borrow your stuff!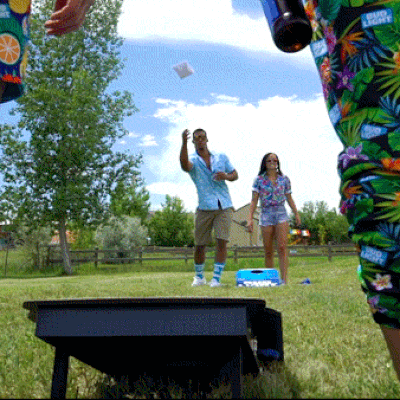 DIY Word Games for the Backyard
Games like Scrabble and Bananagrams are perfect for kids and adults alike. They're fun, dynamic, and keep everyone on their toes. Try staying literally on your toes during your favorite word games by making them larger than life. Tile-based word games like Bananagrams can be easily converted into outdoor activities with just pen and paper–use cardboard if you're concerned about keeping your creation after the game is over, or even make it a crafting adventure and create more permanent tiles using cloth squares or wooden squares. We would recommend using original versions of the games you're duplicating so that you don't run out of certain letters you might need and can work within the rules of the original game.
The larger you make your tiles, the more active the game becomes. Challenge yourself and your family to use the entire yard as your game board! The options are limitless (although, with Scrabble, you might want to use rope to create boundaries so the game doesn't go completely off the rails). Don't forget to keep a dictionary on hand in case disputes arise.
DIY Jenga
Bars around the world have definitely capitalized on this one, but your own backyard is also a perfect place to set up a game of life-size Jenga. It's fairly cheap to buy the blocks necessary to create your towering masterpiece, and any flat surface outside will make a good base. Check out this guide to creating your own Jenga set to figure out what materials you need. The best part of building your own game set is that you can paint the blocks and customize them however you want.
If you're feeling particularly daring, set your base on a higher flat surface to truly create a towering structure and increase the stakes. If you have smaller children, make sure that your blocks are made with safe materials in case they fall down, and make sure to give them warnings so that game night doesn't become rush-to-the-hospital night.
If you're looking to improve the original Jenga game idea or to age up your Jenga game, try creating a custom set that has small tasks or questions on each block for a Never Have I Ever/ Jenga combo, or even make a drinking game out of your game blocks.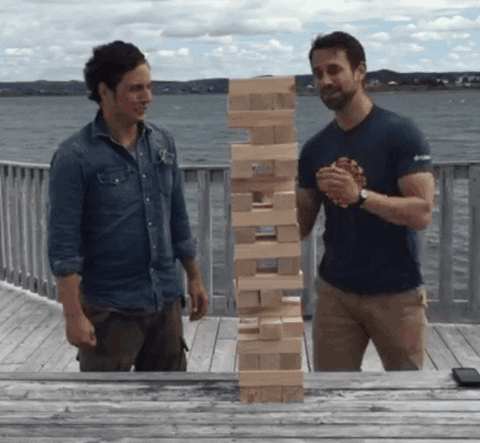 DIY Classic Games
Bring back the DIY spirit of your outdoor Scrabble set with DIY versions of classic game pieces, like dice and Dominoes. A theme of this post has sort of been "the bigger the better," and kids especially will love the idea of playing normal games with a twist. Build your own dice out of cardboard or poster board with this tutorial for some outdoor Yahtzee, or cut some rope or string to create a large Tic Tac Toe game.
If you have a flower garden, flowers can make a great and aesthetically pleasing boundary on a Tic Tac Toe board, or can serve as game markers instead of x's and o's. Branches and stones can also be used to create semi-permanent game boards in your yard. If you have basic materials like cardboard or rope, so many DIY backyard games are possible. Use your imagination and see if you can recreate your favorite board games from scratch, and don't forget to take pictures if you manage to create an ethereal, gorgeous chess board out of nothing more than fallen leaves and twigs.
DIY Beersbee
This one is intended for the adults, but kids can play too! All you need are two PVC pipes (with angled cuts on one end of each) and a frisbee.
Known as Beersbee to some, this drinking game is a perfect activity in the summer evenings and is incredibly cheap to reproduce in your own backyard. The idea of the game is to place a beer bottle (or if you want to stay kid-friendly, try using a plastic bottle with water inside or an empty soda bottle) on each pole and have both teams facing opposite one another. The goal of the game is to hit the pole with the frisbee, and there's a scoring system based on whether your frisbee hits the pole/ bottle or is dropped by the receiving team. Check out this DIY tutorial for building your own Beersbee set (it has more pieces but you can take it anywhere), and check out this rule sheet for further instructions.
You'll have to trust on this: Beersbee is such a great idea for summer. It's easy to play everywhere and is fun for players of all skillsets–it'll also really help you improve your frisbee throw.
The only thing limiting your summer play is your imagination. So many games can be easily translated to be more outdoor-friendly or even just kid-friendly. Even just taking a picnic blanket outside for the nightly euchre or Scrabble tournament is a great way to make the most of summer. Check out the following link for even more games you can play outside this summer.
35 Ridiculously Fun DIY Backyard Games That Are Borderline Genius