Mystery Shopping Insights: Easter 2019
We know you love seeing your Mission results, so we've created another exciting blog for you. Today, we're going to give you an in-depth look at the results to the "Easter Egg Hunt" Anywhere Mission. This Mission asked you about your Easter spending and celebration plans for this year. Now you can find out how your responses compare to the rest of the Mobee bees.
How Are You Celebrating?
For this section, we should look at the biggest question first: How many people are celebrating Easter 2019? Based on the answers submitted by our survey participants, about 78 percent are planning on celebrating this year. Of those, 64 percent will be celebrating with their children. In my opinion, is a great holiday to share with friends and family.
Another big question comes up when we talk about celebration plans and that is: How will you celebrate Easter this year? Here are the top results:
Easter Egg Hunt (52 percent)
A Religious Service (38 percent)
Hosting/Attending a house party (36 percent)
Breakfast/Brunch at a restaurant (25 percent)
Travelling (10 percent)
Other (10 percent)
Easter Parade (5 percent)
There are so many different ways to celebrate and our survey participants are covering a huge variety.
Easter Gifts
Easter is a holiday that can sometimes be known for gift-giving, but not in the way we think of it for other holidays like Christmas. Let's see if the Mobee Bees who participated in this survey agree with that statement.
Based on the results we received, 64 percent of survey participants are planning on celebrating Easter with some form of gift this year. Let's take a look at what the most popular gift ideas are.
Chocolate or Easter Themed Candy (87 percent)
Easter Eggs (64 percent)
Toys (54 percent)
Cards (29 percent)
Gift Cards (26 percent)
Clothing (25 percent)
DIY gifts (20 percent)
Other (9 percent)
The most common recipients of Easter gifts this year, based on the survey results, are children (74 percent), significant others (27 percent), nieces and nephews (26 percent), parents (20 percent), and friends (14 percent). There are so many people to celebrate with and so many Easter presents to choose from.
We can't leave the presents section of the blog without talking about the average planned spending. Most survey participants plan to spend $15-$30 (29 percent) or $30-$50 (29 percent). Fourteen percent plan to spend $50-$75, 10 percent plan to spend $75-$100, 10 percent plan to spend $1-$15, and 8 percent plan to spend $100-plus on Easter gifts.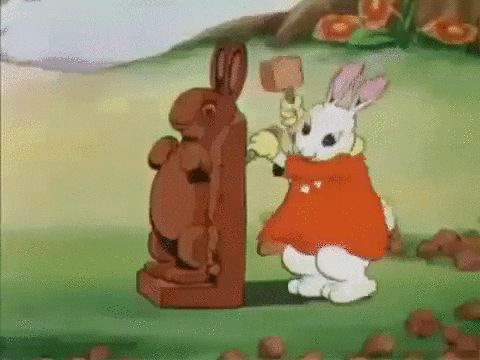 Easter Decorations and Candy
Decorating for the holidays is always a fun tradition, no matter what the holiday may be. With that said, 58 percent of survey participants agree and are planning to buy Easter Decorations this year. These are the most popular:
Decorated Easter Eggs (76 percent)
Chocolates (69 percent)
Plastic Easter Eggs (60 percent)
Bunnies [Stuffed Animals] (41 percent)
Candles (23 percent)
Religious Decorations (18 percent)
Carrots (11 percent)
Other (11 percent)
It may seem weird to pair decorations and candy, but when it comes to Easter, a large majority of the decorations typically relate to candy. Sixty-nine percent of survey participants plan to have chocolates in their house during Easter and 60 percent will have plastic Easter Eggs—which are traditionally filled with candy or money. It only made sense to keep these items together in this blog.
Looking at candy now, 76 percent of survey participants plan on buying candy this year. Here are the favorites:
Cadbury Eggs (32 percent)
Other Branded Chocolate/Candy Eggs (19 percent)
Chocolate Bunny (18 percent)
Peeps (12 percent)
Robin Eggs Candy (10 percent)
Other (8 percent)
Shell Smashers Candy (1 percent)
Closing Thoughts
Easter can be a fun holiday to spend with family and friends. Based on the survey results that we collected, the biggest Easter trends seems to be Easter eggs/Easter egg hunts and the available candy selection. Another trend we noticed was that planned spending during this holiday is much lower than the other holidays.
We love seeing your survey results come in. We love sharing those results with you even more. We can't wait for the next set of Mission results to come in!
There you have it! For even more information from this Anywhere Mission, check out the following infographic.
Infographic
Here's our latest infographic to a look into the most interesting and insightful Mission results
Do you want to make money from your phone? Mobee pays you in rewards to shop at your favorite stores and retailers. Check us out on our website, the iTunes Store and the Google Play store today!