12 Smart Tips to Host Thanksgiving on a Budget
Thanksgiving is a time for friends, family, and giving back. It's also time to stuff our faces and watch football. What isn't it time for? Breaking the bank. That's right—it's possible to host Thanksgiving while on a budget.
Just because this holiday is a major food holiday, and families spend all day (or week) prepping and cooking, doesn't mean you can't provide a fantastic feast for your guests without spending too much money. Whether it's your first Thanksgiving or your 40th, here are 12 smart tips to help you host Thanksgiving on a budget.
1. Make it a Potluck Feast
You're hosting Thanksgiving. You don't have to prepare every single dish, you know? Instead, make it a potluck. Ask each guest to bring an appetizer, side dish, or a dessert. As the host, you'll prepare the staples: the turkey, mashed potatoes, stuffing, and other core Thanksgiving side dishes.
Each guest can bring something they love to eat, like a green bean casserole, homemade cranberry sauce, or grandma's Brussels sprouts. This keeps your costs down and increases the menu options for the meal. Everybody gets a little of what they want!
2. Raid the Pantry
We've all got some boxes of rice, pasta, or spices in the back of our pantries. Now is the time to dig in there and see what you can find.
In many cases, you'll have an ingredient or entire Thanksgiving side dish waiting. This is a fantastic way to save a few bucks. Instead of a massive grocery list, take advantage of what you've already got to spice up your Thanksgiving menu.
3. Use Disposable Tableware
Thanksgiving can be a bit of a messy dining experience. Clean-up at the end is always a major headache. All of that can be avoided by buying some disposable tableware this holiday season.
Your favorite dollar store will have tablecloths, forks, knives, napkins, and much more that fit into your budget. Buy a style you like to set your table. Then, once everyone has eaten their fair share, roll everything up and throw it right in the trash. Clean up made easy!
4. BYOB
BYOB, or "bring your own booze," can save you a ton of money. As a host, you're providing the space and essentials. You don't have to stock the liquor cabinet too.
Ask all your guests to bring a bottle of their favorite wine, a six-pack, or even their non-alcoholic beverage of choice, like apple cider. Stock up on a few drinks yourself just in case, otherwise, let everyone else round out the supply.
5. Shop as Early as Possible
You should buy all your ingredients for Thanksgiving dinner as early as possible. You've probably noticed that prices get a bit steep the closer to the holiday we get. This is especially true for big-ticket items like turkey.
On the contrary, you can likely win a few deals by shopping earlier. Start a few weeks in advance. If you have the space, buy the turkey at this time and freeze it. Also, look for coupons and other promotions to keep costs down. You should be able to get most ingredients a week or two before. In addition to saving money, you'll also avoid those crazy grocery store lines!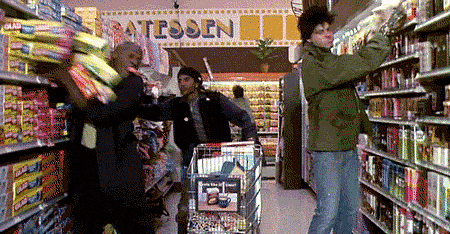 6. Prep as Early as Possible
Shopping early is one part. Prepping early is another. There will always be a lot of cooking to be done the day of, but you can prepare plenty a day or two (or more) in advance.
For example, you can make turkey stock or gravy early. You can chop up all the vegetables a day before and bag them in the fridge. This is a great tactic for a host on a budget because you don't need that million-dollar kitchen and the space that comes with it. You can save time you'd spend running around your kitchen and can focus instead on hosting and having a good time.
7. Cut Back on Appetizers
If your potluck approach didn't pan out, consider reducing the number of appetizers. This is good for a couple of reasons.
For one, it's less food to buy and prepare. Secondly, it keeps your guests hungry and anticipating the centerpiece dishes you've worked so hard on. You don't want your Thanksgiving to involve too-full guests and untouched turkey and pie.
8. Cook More Large Dishes
For some, Thanksgiving is about dozens of dishes, four different types of cranberry sauce and eight pies for dessert. This sounds delicious, but it also sounds like a lot of money.
On the contrary, focus your budget feast on more large dishes for a big group. What does that mean? Well, one Crock-Pot of mashed potatoes instead of seven smaller bowls of "artisan" potatoes. Only one type of cranberry sauce, not four. This approach can help keep costs down.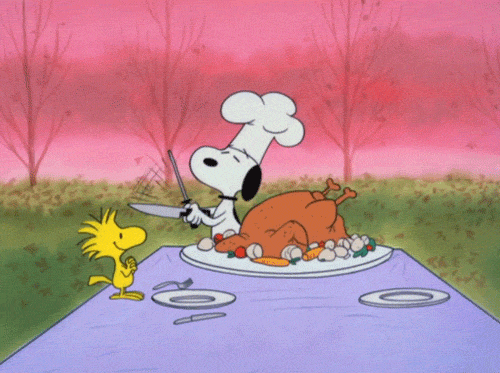 9. Prep Simple Dishes
Who isn't a fan of cooking shows these days? From Rachel Ray to Ina Garten and Martha Stewart, there's no shortage of talented chefs who can tell you how to cook an impressive and hard-to-pronounce dish. The catch is these meals are often expensive.
For your Thanksgiving, focus on the simple dishes over the complicated. You don't need exotic ingredients or once-a-year spices. Cook a turkey, prep the stuffing, roast some carrots, bake some green beans and serve up some sweet potatoes. Your guests will love it.
10. Don't Aim for Leftovers
This may be blasphemy, but Thanksgiving doesn't have to be all about the leftovers. Planning for—and cooking— a massive meal so every guest can bring home a full serving will cost a lot of money. That's twice as much meat and potatoes. A more cost-effective option is to only cook enough for those in attendance. Lock down your guest list early. The general rule is about 1 pound of turkey for each person, and more than a pound if you just absolutely need those leftovers.
11. Say No to Turkey Day?
Thanksgiving dinner is all about the turkey. Or is it? For those on a budget, the answer could be in a different type of meat for the holiday meal. Turkey can be pricey, more so around Thanksgiving. You should be able to find a good deal on a lot of meat if you shop for a different bird, like chicken. Or check out the prices on duck, ham, or beef. You can still host and cook a great feast without turkey as the centerpiece.
12. Make it About Friends and Family
For better or for worse, the more memorable parts of any holiday are usually the friends and family, not the food. Instead of spending a ton of money to host Thanksgiving dinner, create an event that's more about the experiences than stuffing your face with roast turkey and potato casserole. Basically, don't stress the menu. Appreciate the opportunity to get everyone in the same room for a few hours and have a blast catching up. That's what you'll really remember in a few years.
Do you want to make money from your phone? Mobee pays you in rewards to shop at your favorite stores and retailers. Check us out on our website, the iTunes Store and the Google Play store today!