8 DIY Thanksgiving Decorations Using Mobee Rewards
As Halloween comes to an end, Thanksgiving is on the horizon and there's always a lot to plan before the big day. Decorations are a great way to give your home the warm, cozy, Fall feeling. Often times, they can be expensive, especially when they're created for specific holidays like Thanksgiving. Luckily, we've prepared a list of our favorite DIY decor that will help spice up your home for the upcoming holiday.
You may be wondering, how do these items work into my budget? That's the best part – everything you need can be purchased using your Mobee rewards. Completing Missions just got a little bit sweeter. Check it out!
1. Candle Wreath
Wreaths are a great decoration for your door, but what about using them to spice up a candle on your table, mantle, countertops, and more? With this DIY project, your home feel as warm and cozy as the images we see on Pinterest! Here's what you'll need:
6″ Grapevine Wreath – Michaels, Target, Amazon
Pine cones, Acorns, Fake flowers, etc… – Target, Amazon, Michaels, Outside?
Faux Greenery – Target, Michaels, Amazon
Hot Glue – Amazon, Target, Michaels
3.75″ Candle – Target, Amazon, Michaels, DIY?
Here's what you'll need to do:
Decide how you'd like to arrange the flowers, acorns, pine cones, and greenery on your grapevine wreath.
Heat up your hot glue gun.
Glue the items to your grapevine wreath using hot glue in the location you'd like them.
Let your wreath sit for 10-20 minutes to allow the glue to cool and dry
Once dry, place your candle in the center of the wreath for a beautiful (and easy) fall decoration.
If you don't want to create your own wreath, you can find pre-made grapevine wreaths at Target or Amazon already! For more information on this craft, follow this link!
2. Mason Jar Luminaries
Add a little ambiance to your Thanksgiving day celebrations with mason jar luminaries! This DIY project will add the perfect fall glow to your home (and the project is not too hard to complete either). This is what you'll need:
Mason Jars (Choose the size of your choice – medium/larger sizes typically work better) – Michales, Target, Amazon, Walmart
Construction Paper – Target, Amazon, Michaels
Scissors – Target, Michaels, Amazon
Markers – Target, Michaels, Amazon
Spray paint – Target Michaels, Amazon
Tape – Target, Michaels, Amazon
Votive Candles – Target, Michaels, Amazon
Here's what you'll need to do:
Take your construction paper and draw your favorite fall item on it – be cautious with what you decide to draw, you will be cutting this out to use as the silhouette for your mason jar. We'd recommend drawing a leaf or pumpkin because they're easily recognizable.
Cut the shape you just drew out.
Tape the cut out image to your mason jar – be sure to tape it on the back of the paper and not on the sides so the image will be recognizable!
Spray paint your mason jar fully. This is where taping under the construction paper will come in handy!
Let it sit for 1-2 hours allowing your mason jar to dry fully.
Once dry, remove the taped construction paper from the mason jar – you should see the silhouette of the image you drew on your jar now.
Place the votive candle in the mason jar and light it when you're ready!
There you have it! This is a quick and easy DIY project that will give you the fall-themed Thanksgiving you've been hoping for! For an alternative method, check out this tutorial!
3. Pumpkin Bucket Centerpiece
This DIY project will quick and easy and it will leave you with a beautiful centerpiece for your Thanksgiving table! Here's what you'll need:
Metallic gold spray paint
2 Trick or treat pumpkin candy pails
3-4 Mini plastic pumpkins
Leaf garland
All you've got to do for this project is:
Spray paint all of the mini plastic pumpkins and pumpkin candy pails metallic gold
Spray paint the leaf garland metallic gold
Let all of the items sit for 20-30 minutes to dry
Once dried fully, you can arrange them on the center of your table for an elegant look.
(BONUS) For added style, place the centerpiece on top of a white tablecloth so the items will pop against the color. We've found this create a beautiful look for your dinner table.
This centerpiece can also be used on a coffee table in your living room if you're saving table space for all of the amazing food! Check this link out for an image and more information!
4. Cranberry Filled Candle Holder
This might be one of the easiest project we have for you but it adds a rustic and warm look to any room. Here's what you'll need:
Glass bowl candle holder(s)
Cranberries, pinecones, acorns, popcorn kernels, etc…
Tall votive candle(s)
(Optional) Ribbon/twine for decorating
Follow these steps for these fall beauties:
Place your votive candle(s) inside the glass bowl holder – remember, one per bowl if you're making multiple. We recommend using white candles but the color choice is up to you!
Fill the bowl half-way with the item of your choice (cranberries, pinecones, acorns, popcorn kernels, etc…)
(Optional) Tie a ribbon or twine around the top of the bowl for an added decorative touch.
In 3 simple steps, you've got another amazing Thanksgiving decoration. You can light the candle to fill your home with warmth, light, and beautiful smells. Not to mention, your guests will be dying to know where you got them. For more information, follow this tutorial!
6. Rosemary Wreath
This decorative piece is small but adds a nice touch to any Thanksgiving plate. This is all you need:
Rosemary on the branch
Twine
All you've got to do for this project is:
Take your rosemary brand and bring the two ends together so that it forms a circle
Overlap the ends a little and tie them together using the twine
Place the rosemary wreath on your guests dinner plates
This will add a cute touch to all of your guests dinner plates, and it will give them a few extra spices to add to any of their favorite Thanksgiving dishes. Check this out for more information!
7. DIY Floral Candles
This turkey day decor will help brighten your home and it perfect for more than just the holiday season. This will be a much more in-depth project, however – make sure you've got the time (and patience) to see it through! Here's what you'll need:
Melting wax or an old candle (color of your choice but we recommend white)
Candle wick
Long device like a spoon, fork, pencil, stick, etc…
Jar
Paint brush
Dried flowers/pressed flowers (of your choice)
(optional) Essential oils
Here's how you make it:
Set up your jar so that it's ready for the dried flowers and hot wax.
Melt your melting wax or old candle
Using a paint brush, put some wet wax on the dried flowers and use it as an adhesive for the side of the jar. Place all the dried flowers wherever you like them around the sides of the jar.
Place the wick in the center of the jar and wrap the top around a pencil/spoon/fork/stick/etc… resting it on top of the jar. Make sure your wick is centered so the wax will burn evenly.
Pour the melted wax into your jar covering all of the flowers – leaving about 2 cm of space between the top of the jar and the top of the wax.
(Optional) Add essential oils now. Depending on how strong you'd like the scent to be you should add anywhere from 30-100 drops.
While the wax is still wet, you can add additional flowers to the center of the candle to have a few more floating around inside!
Place your candle in the refrigerator to cool and harden for several hours.
Once solidified, cut the wick so that it doesn't go over the top of the jar.
Light your beautiful new candle!
That's all you need to do to create a fantastic DIY Thanksgiving decoration! Too keep the fun going, this is the perfect gift to thank your host or guests during the holiday season! For more information, check this link out!
8. Food?
This may not be decor in the traditional sense, but some of our favorite things to see on Thanksgiving is all of the food. If you're the one doing the cooking, it can still be a DIY project too! Here are some of our favorite dishes to see as the Thanksgiving centerpiece:
Turkey!
Cranberry sauce
Pumpkin Pie
Mashed potatoes
Stuffing
So much more!
Sometimes, Thanksgiving dinner and a room full of friends and family is all you need to spice up your home for the holidays.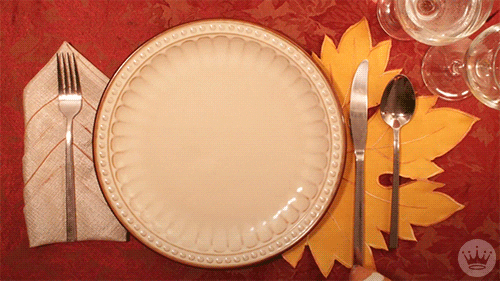 Closing Thoughts
Thanksgiving decorating doesn't have to cost an arm and a leg. Many times you can create the decorations you want and buy the items you need to make them for a great price. Using Mobee rewards to help reduce that cost is also a huge benefit.
It can be difficult to feel festive when everything seems so expensive. Reducing that cost will help make your holiday more enjoyable while still having the Fall-inspired vibes you've been dying for. The best part is, a ton of these decorations can be used year after year allowing you to reduce or even remove that cost in future years. All we have left to say is thank goodness for DIY Thanksgiving decor.
Do you want to make money from your phone? Mobee pays you in rewards to shop at your favorite stores and retailers. Check us out on our website, the iTunes Store and the Google Play store today!