This is a guest post written by one of our Bees, Stephanie Modkins
In America, food is a big part of Christmas. During this holiday, celebrators kick their cooking skills up a notch by producing special dishes. They are ones full of fat, sugar, and spices.
We can't wait to eat grandma's delicious red velvet cake or glazed ham. This sentiment rings true throughout most cultures. The big difference is the dishes they crave.
But have you ever been curious about what foods other countries eat, like Japan and Australia? Well, let's get into it.
Christmas Foods in Japan
Japan is known for its seafood. Sushi is a staple as well as other raw (and cooked) fish delicacies. However, they opt for fowl on Christmas Day. Over 3 million of them eat fried chicken. And, on Christmas Eve, they reserve tables at KFC for a finger-licking' good meal. Other go-to dishes during the holiday season are strawberry shortcake and potato salad.
Christmas Foods in Australia
On most days, Down Under natives enjoy hearty foods such as meat pies, chicken parmigiana, and sausage. These types of edibles suit their tastes.
But, don't expect to see any of them on Christmas Day. For this holiday, Aussies eat ham, prawns, and desserts full of raisins and currants. Other favorites are mince pies and gingerbread.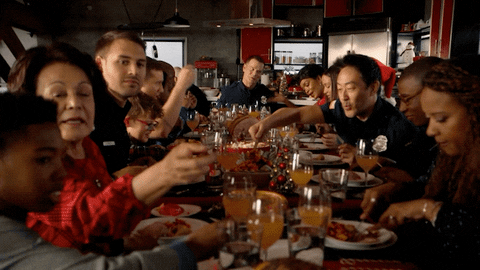 Christmas Foods in South Africa
South Africa is rich with grains and roots. Two popular dishes – cassava and jollof rice – stem from this fact. What's eaten on Christmas Day varies. Most meals include some sort of roasted meat (turkey, lamb, pork) or stew. Sides are vegetables, rice, and porridge. Deserts are light, no heavy cakes. Puddings and sherberts are king.
Christmas Foods in Venezuela
Traditional South American cuisine offers a mix of grains, beans, and meats (rabbit, goat, lamb, pig). Christmas celebrations start on the first week of December and last the entire month. Popular foods during this period are pan de Jamon (bread filled with cooked ham and raisins) along with tamales. Venezuela natives also enjoy a cold dessert, dulce de lechoza, made from papaya and brown sugar. And, eggnog is a sought after drink.
Christmas Foods in France
Croissants, creamy sauces, and duck often show up on French restaurant menus. However, Christmas Day food differs – sorta.
Of course, it's rich, but what you eat depends on the region. The main dish is seafood (scallops, escargot, lobster) or roasted turkey with chestnuts. In Provence, celebrants cook 13 desserts in honor of Christ and his 12 apostles. Apples, pears, melons, dates, figs, and walnuts are key ingredients in this fare.
Each place offers a unique idea of a delicious holiday meal. Try one on December 25 and give your family a chance to delight their taste buds in a new way.
Editor's Note: Stephanie Modkins is an active Mobee user. She spent her childhood as a military dependent traveling to different places like the Philippines. This experience taught her the value of diversity. In her spare time, she enjoys reading, playing cards, and watching singing competitions.