How to Save Money on Groceries
Going to the grocery store is one of life's little pleasures. Wandering the aisles, or browsing for the things you want can be joyful. But grocery visits can also get expensive. From coupons to cash-back, here are a few simple ways you can start saving money on your grocery shopping trips.
Start a Budget
If you're not already budgeting, keeping an eye on your weekly and monthly expenses can help you save money in the long run. Developing a food budget is as easy as determining how much you'll need to buy in a week. And then keeping yourself stocked with all your necessary items.
If you need help developing a weekly budget, there are plenty of apps and tools available that can help. Check out this list of great budgeting apps to help you get started.
Make a Grocery List
This might seem obvious, but if you make a list before you start shopping you'll be more likely to stick to it. This is better than the alternative of picking up any food items you please and blowing your budget.
If your list has items that are flexible, consider buying store brand items rather than name brands that might incur an extra cost. You can swap out things like produce and dry goods for store brand options.
To save even more money focus on buying dry goods or items that will be easy to spread out over a longer period of time. This includes goods like pasta or frozen vegetables. This will help you avoid spending money on food delivery later.
You might also be able to save money over time if you plan what meals you'll be eating throughout the week. At the very least, you'll have everything you need to avoid being compelled by your Postmates app.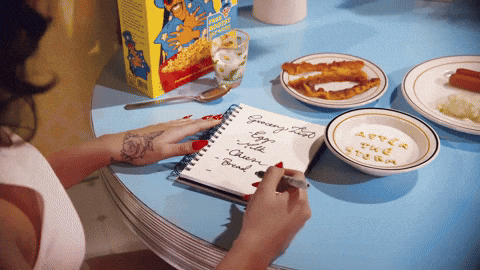 Avoid Pre-Packaged If Possible
It is very convenient to buy food that might be pre-washed and pre-cut. But buying produce and other items that are fresh and using your own produce bags is the way to go. It will help you cut down on waster. And you'll also avoid the fees associated with preparing food that might sneak up on you over time.
You know how buying prepared meals or eating out at restaurants can get a little pricey? Well buying grocery items that are pre-packaged can take its toll on your budget also. Fresh produce is easy to work with. It might seem like a pain, but it will only take you a few moments to wash your spinach or kale.
Shop Seasonal
Grocery stores are likely to have deals based on what's in season. In the autumn, squash and root vegetables are more likely to go on sale. Seasonal items also may have the benefit of coming from local growers and producers. This is better than being shipped for thousands of miles before they arrive at your local Kroger.
When you build your meal plan or grocery list, make sure you're working with in-season groceries. This so you can save a little money next time you shop.
Join a Loyalty Program
Most grocery stores offer loyalty programs for return customers. The programs will allow you to get deals on products you buy often as well as product you might not have considered. If you're a fan of trying new things, a loyalty program can get you great discounts on new products.
Some grocery stores offer credit cards, just like department stores, that can give you cashback on items you buy often. You might also get deals on items other than groceries. This includes things like gift cards or household items you might have shopped elsewhere for in the past.
Check out this list of grocery stores with great loyalty programs to figure out which would work best for you.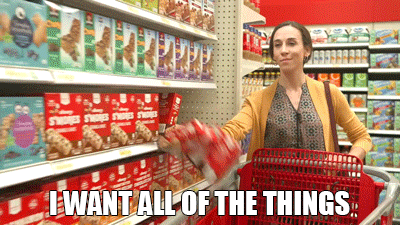 Save Those Coupons
Couponing isn't for everyone. It requires planning and hard work, but the rewards can be great. Do you have an eye for detail and you're not much of one for impulse purchases? If so couponing might be a great avenue to help you save money at the grocery store.
Most stores offer their own coupon books. But be sure to check your receipts every time you shop in case you have a coupon that you might use next time you visit.
Check out our guide to couponing to get started with your grocery coupon adventure.
Investigate Where You Can Make Swaps
Not everything you get in a grocery store is something you need. If you're a devotee of buying up water bottles, consider investigating the cost difference between a water-filtering pitcher for your refrigerator and the bottles you're buying every week.
Also, look into buying in bulk vs buying one off items. If you can buy whole coffee beans for cheaper than a cold brew concentrate and know it might make you more cups in a week, consider switching. There are plenty of hacks for items you buy often in smaller sizes that can help you get more out of your groceries over time.
Do you buy brand-name products, but know there are plenty of alternatives? Well then you should consider checking out which is cheapest and see if the cheaper product has good customer reviews. Even tiny changes to your weekly or bi-weekly grocery trip can make a big difference in your bill.
There are many ways to save money on your grocery bills. With these strategies, you can save a ton of money that you can use on other things that you enjoy. 
Are you looking for other ways to save money on food? This article covers everything you need to know about meal kits. And this blog shares more about grocery subscription boxes. Both are great to supplement your grocery shopping and save you money.