6 School Lunch Box Ideas That Don't Break the Bank 
Balancing nutrition with picky eaters and a tight budget can be very tricky.
Sometimes, the normal ham and cheese or peanut butter and jelly just doesn't cut it. And Lunchables can be fun, but they get pricey pretty quickly!
You spend all that time and effort picking out the right balance of yummy and nutritious foods and putting in the work to prepare fun, interesting lunches just for your kids not to touch them at all. And it only gets more difficult if you have multiple children or have other jobs and responsibilities to worry about.
If you've had these experiences, then you probably already know how challenging the task of assembling school lunches can be, and how stressful.
Don't worry! Mobee has some simple, cost-efficient lunch box ideas for you to try out.
No. 1: Deli Skewers
With the craze of charcuterie boards taking the online world by storm, making these little cheese and deli meat skewers for your kids is a great lunch idea.
These are easy because they include all the same ingredients as normal sandwiches, while feeling like a step up.
Choose your kiddo's normal favorite sandwich fixings like deli-style meats, cheeses, and any veggies. Then, alternate each ingredient on a short skewer or toothpick. You'll make several of these, around four to five per meal, and then fit them into a bag or the large section of a bento box, if those are your thing.
This way, all of the ingredients can stay fresh for eating a few hours later at your child's lunchtime.
Consider also including a small container of a dipping sauce like ranch, mustard, ketchup, or salad dressing–whatever your kid prefers.
These make for easy prep, cheap ingredients, and fun eating.
No. 2: Simple Pasta With Sauce
It may sound crazy to be making pasta for your kid's lunch, but it's a great option to consider.
For one, pasta is carb-heavy, so it'll keep your kids nice and full for the rest of their school day. On top of this, pasta is super cheap and comes with a lot in a package, so you can get a few meals out of it if your child is enjoying it.
A pasta lunch is also super fun because you can always switch up the sauce or the pasta shape and make it feel like a brand-new thing. You can even switch between warm pasta dishes, or cold ones that are more like a pasta salad.
If you have a younger child, consider buying a box of pasta in the shape of their favorite cartoon characters. They make pasta-fied versions of many popular tv shows and superheroes that can keep your kids excited to be eating their lunch at school. These might even be a hit with their classmates!
Pasta can be prepared the night before or even in the morning before drop-off. It's very easy to cook and can always be prepared in a pinch!
Some kids won't mind eating their pasta cold, but if your child has a problem with it then heat it up in the morning and include a warm thermos with it.
No. 3: Quesadillas
Quesadillas are super simple and easy to make. Plus, they often satisfy even some of the pickiest eaters!
Take some tortillas and some of you or your child's favorite cheese and you have a lunch that won't cost you more than a couple bucks. Plus, just like the pasta, tortillas are carb heavy and will make sure your child has a filling lunch.
If you want to spruce up the quesadilla a little bit then consider adding in more ingredients, like multiple different kinds of cheeses, deli meats, veggies, or even apples.
All of these can add some more flavor and interesting texture to a somewhat straightforward meal.
As a bonus, none of the components are expensive or difficult to make. You can whip up a yummy quesadilla in just a few minutes. Just like with pasta, quesadillas can be eaten cold or kept warm with a thermos.
These will definitely be a hit with any cheese-loving kid out there!
No. 4: Everything Muffins
Savory muffins have swept the internet in the last couple years, but they've actually been around for a long while. They're super easy to make and are great because the filling possibilities are limitless.
You can use a bake of either egg or pancake mix and then add in other ingredients that compliment those or that your child loves to eat.
For example, with an egg base you might add in more savory things like sausage, cheese, and veggies. With the pancake base it might make more sense to use sweeter things, like berries, bananas, oatmeal, syrup, or even marshmallows!
You'll bake all these ahead of time and they hold up pretty well throughout the day. The pancake mixes in particular can be just as great at room temperature.
You can even freeze these if you want to have some backup lunches or snacks ready for a later time! Just make sure you have them divided so they don't freeze together and then it's an easy trip into the microwave to warm them up quickly.
If your kid has some favorite foods, this is an easy way to incorporate them all into one easy-to-pack, and make, item.
No. 5: Mac n' Cheese Bites
This is another muffin tray recipe, but it's a little bit different.
Mac n' cheese is a traditional childhood favorite that even the most mature adults find themselves indulging in from time to time. Nothing hits quite like a box of stovetop mac.
Pinterest and other recipe boards are filled with hundreds of recipes to make the best mac n' cheese possible with special ingredients, long cooking times, and fancy cheeses. But your kid's lunchbox isn't the time for that.
For this recipe, you'll cook up whatever your child's favorite mac is, and then get whatever veggies you'd like mixed in (broccoli is usually a favorite.)
Then, take a muffin tin and spray the bottom of each section with nonstick cooking spray. Pour some of the mixture into each hole until you have finished up your pasta. If you do want to bring in some of that fanciness, then you can also top these with parmesan or breadcrumbs.
These are cost effective because all you need is a boxed mac n' cheese mix and any mix-ins of your choice. They also freeze up well just like the previous muffin recipe, so they can be made in advance and used at your leisure.
No. 6: Pizza Bites
Not to save the best for last, but it's not a secret that pizza is a number one childhood favorite. Almost every kid out there loves pizza, even if the toppings get changed up a bit.
What's great about making pizza bites is that there's many different forms they can take. You can do these in a muffin tin like the previous ideas, make them into little pizza egg rolls, or even make your own at-home pizza Lunchables.
Muffin Pizza Bites
For this recipe you'll spray the tins down with nonstick cooking spray and then take a can of biscuit dough and spread it into the base of the muffin tins.
Then, you'll place a generous amount of mozzarella cheese on top. Add other toppings like pepperoni, sausage, or veggies, then top with a little more cheese. The last ingredient is a spoonful of jarred pizza sauce on top to cover all the toppings.
You'll bake these for longer than normal biscuits, and they can be frozen for later use. Serve with some ranch or other sauces and enjoy!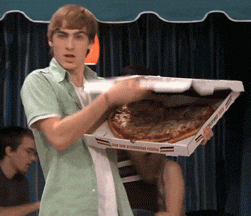 Pizza Egg Rolls
For these you'll need a pack of egg roll wrappers.
In a bowl, mix together whatever toppings you want to stuff your egg roll with, like cheeses, meats, veggies, and little pizza sauce. All raw meats should be cooked before you fill your wrappers.
Then put a couple tablespoons of the mixture into each of the wrappers before rolling them up tightly, making sure to tuck in the edges so they don't explode while cooking.
Feel free to seal any of the egg roll wrapper edges with water, making it stick to itself.
After you have used up all of your filling, you can cook these one of three ways:
In a skillet with about an inch of oil until golden brown on all sides.
In an air fryer with a little oil brushed on top of each egg roll. Seam side down.
In the oven with oil brushed over each one. Seam side down.
Pizza Lunchables
For this recipe you'll need some naan or pita bread, pizza sauce, and any toppings your child likes.
You'll start by quartering the bread so that the pieces are small and manageable, able to fit easily into your child's lunch box. Then you will put a container of cheese and any other toppings in the lunchbox.
Lastly, put a small amount of pizza sauce into a sandwich baggie, make sure it's sealed up tight, and add it gently into the lunchbox.
That's it!
At lunch, your child just has to open the baggie of sauce, put some onto the bread pieces, and then top with the toppings. This functions exactly like Lunchables do, except they're cost effective and come with more ingredients so you can use this lunch idea more than once.
A Few Tips
If you're trying to pack your kid's lunch box on a budget while keeping things interesting, then feel free to use any of these recipes. Just remember:
Meal Plan – Try to plan out your child's meals ahead of time to save money on last-minute expenses. This will also save you some time rushing around in the morning trying to figure out what to feed them.
Keep it Simple – Don't let yourself get frustrated or burnt out! Keep the meals simple and easy-to-bake so you don't feel stressed at the thought of cooking them.
Buy in Bulk – One of the best ways to stay cost effective is to buy in bulk when possible. Don't buy things you won't use and make sure you have somewhere to properly store things, but for items like juice boxes, crackers, granola bars, and other long-lasting items, this can be a great idea!
For extra help with saving money, consider doing Missions on the Mobee App to earn rewards and use those to mitigate the costs of groceries. For more tips and tricks to make your life easier, check out the Mobee blog!