10 Budget-Friendly Fall Activities
Did we catch you in the wrong season? If so, here are some budget-friendly spring activities and winter activities.
With the temperatures dropping and the leaves turning, fall is a great time to go outside and explore nature. However, it can be hard to find inexpensive activities. Here are 10 budget-friendly fall activities that won't break the bank.
No. 1: Have a Fall Movie Night
Fall is a great time to stay in, grab a blanket, and watch a movie. Here are a few good Halloween movies to watch for a good scare. Some of our recommendations include Hocus Pocus, The Nightmare Before Christmas, It's the Great Pumpkin Charlie Brown, and Hubie Halloween.
No. 2: Take a Hike in Nature
Taking a hike can be a great way to relieve stress and get away from your current surroundings. While you hike don't forget to stop and view the foliage. All Trails has over 20,000 places to hike across the United States.
No. 3: Make a Fall-inspired Recipe
Fall is a great time to try out a few different foods and drinks. Some foods to add to your list include broccoli cheddar soup, butternut squash soup, and chili. For dessert consider making apple cobbler, caramel apples, apple pie, and pumpkin pie.
To snack on we recommend that you roast some pumpkin seeds. Don't forget about egg nog, hot chocolate, and apple cider for drinks, either!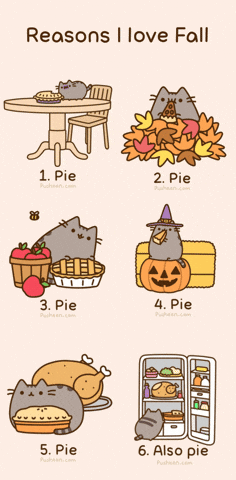 No. 4: Host an Event
Fall has many sports, including basketball, baseball, and football. This creates a perfect reason to host an event at home. You can have your own tailgate for football or turn on another sport. If you host a potluck, you can save money on food and snacks.
There are also other options if you aren't into sports. You can host a game night, with classics like Monopoly and Scrabble. Another option is to complete a large 1000+ piece puzzle. Or you could go to the beach or park and have a picnic.
If you celebrate Octoberfest, you can have each of your friends bring a special "beverage" to your get-together.
And finally, if you have a fire pit or nice backyard, you can hang out and make some s'mores. Sometimes a nice night outside with the ones you love is all that you need to refresh yourself.
No. 5: Find Local Events and Leagues to Join
Finding local events and leagues can be a great way to get out of the house and make some friends while you do.
Meetup, Eventbrite, Nextdoor, and Facebook Events have different events and free activities in your neighborhood. Local attractions often host events on these platforms, so it can be a great way to get access at a low cost.
Sports leagues usually cost around $60-$140 for five through eight games. Despite the cost, they can be a great way to meet people. When you do the per-game cost they are around $10-$20, which isn't too bad. A few sports that you can play include basketball, bowling, cornhole, dodgeball, flag football, hockey, kickball, soccer, softball, ultimate frisbee, and volleyball.
No. 6: Create Your Own Halloween Costumes and Fall Decor
There are many different fall items that you can create yourself to save money. You can knit a scarf, build a scarecrow and even create your own Halloween costume.
For fall decor we recommend checking out 50 easy fall decorating projects. Some of our favorites include wreaths, vases, leaf card art, and leaf bowls. When November comes, don't forget to create some paper turkeys to celebrate Thanksgiving!
No. 7: Visit Your Local Farm
Local farms are a great way to have fun while also supporting your community.
One activity that families will love is picking fruits or vegetables. Some things that you can pick include strawberries, apples, blueberries, pumpkins, and much more. If you go with the pumpkins, don't forget to carve them at home.
Farms also have corn mazes and haunted hayrides that are worth checking out. Local Harvest is a great website to find farms near you.
No. 8: Dive into Some Leaves
There's nothing better than diving into a big pile of leaves. It's a low-cost activity that should be on every fall bucket list. If you have kids, you can get them to rake for free if you let them jump in the leaves. A true win-win for both of you!
No. 9: Plant Some Seeds
Fall is a time to get the garden ready for next year. Some greens that you should plant for the fall include lettuce, spinach, kale, collards, arugula, and mizuna. Other autumn veggies include radishes, turnips, kohlrabi, broccoli, and Brussel sprouts.
If you are looking for bulbs, then check out this article by Country Living about the best flowers to plant in the fall. Some of our favorites include fritillaria, hyacinths, daffodils, alliums, crocus, bluebells, snowdrops, and tulips.
No. 10: Attend Local Sport Games
Professional sports are fun but watching a local sports team can be just as entertaining, at a fraction of the price. To find some of the games around you, check out the Gametime App. We recommend checking out your kid's high school games or supporting your local college team.
The fall weather is a nice change of pace from summer. Now you have a few ideas for activities to do that won't break the bank. We hope that you can complete all these activities before the winter comes!
Are you looking for other things to do this fall? If so, consider decluttering your home and cleaning your upholstery? You can also write a Mobee blog and create your own backyard games.